Swellseal is now available in 5.7m wide rolls. Wider rolls mean less overlaps and delivers
savings of more than 10% in material and installation costs, compared to 5m wide rolls.
Made with 4000gsm high quality natural sodium bentonite granules, this GCL has a hydraulic conductivity (k value) of 3×10-11m/s.
Granulated bentonite generates less dust and causes less irritation to contractors during installation, than powdered bentonite.
The improved needle punching process and high quality geotextiles combine to give an Hydrated Peak Internal Shear Strength (@10kpa Normal Stress) ≥40kpa.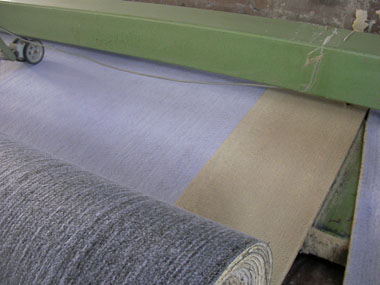 Bentonite enhancement being applied to the edges of the rolls during production.
Swellseal MS is the leading GCL waterproofing membrane used in the building industry in Australia.
It is only one of three geosynthetic clay liners to have achieved Branz accreditation for use in New Zealand.
For more details on this cost competitive, GCL please contact us on
03 8640 0958 or support@geosynthetics.net.au