Our green wall modular panels create a lush, beautiful, vertical garden, either indoors or outdoors. Green walls are ideal for the home, office, on the terrace, cafes, bars, lobbies, facades and balconies. They purify the air and reduce the heat island effect on buildings. Vertical gardens also enhance the appearance of urban areas and increase the value of commercial property. Green walls can also help cut down on noise pollution. Because leaves have a natural ability to absorb sounds, they help to create a more relaxing environment in the office or home space.
The modular panels attach to an existing structure with lightweight aluminium rails that are easily fixed to concrete, brick, masonry, sheet metal, timber using appropriate fasteners. The angled planting pots are easily fitted to or detached from the frames. Adding modular frames vertically or horizontally creates a larger green wall.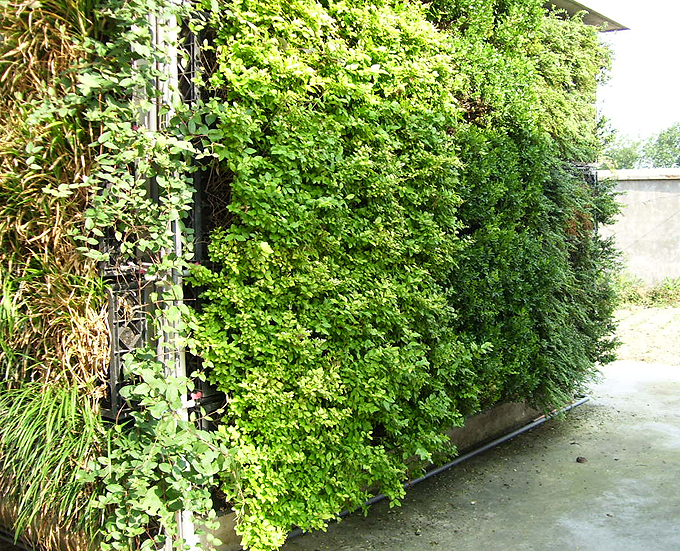 Applications:
Because each plant grows in its own flower pot, flowers can be arranged in patterns and changed according to the season. After flowering, or when new colours, shapes or sizes are required, old plants are easily removed to maintain a vibrant green wall all year round.
Benefits of Green Walls:
Durable Heavy Duty Design
Rapid Construction & Installation
Easy Vertical & Horizontal Expansion
Rigid 4-Way Interlocking System
UV Stabilized
Modular
Maintenance
Because the modular system allows access to individual plants, liquid fertiliser and water can be fed through a drip irrigation system, as required.
No separate waterproof barrier layer is required. Because the frames sit 50mm from the wall it is protected from collecting any moisture.